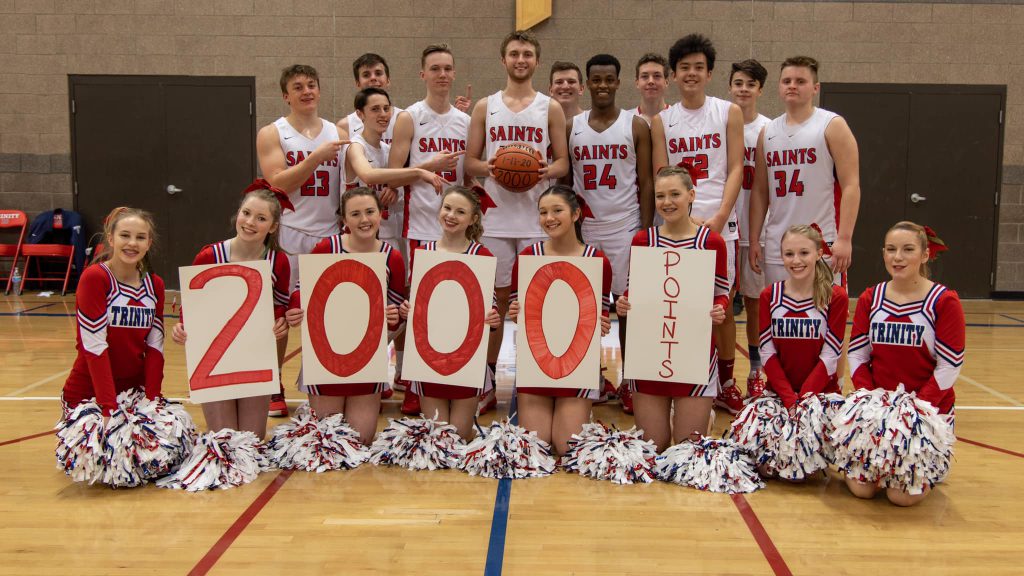 North Lake visited Bend with a #5 ranking and a lot of confidence, including memories of their only win against the #8 Saints during their visit last February. When it comes to rivals, these two have had a history. Dating back to middle school for most players on the current team and the Saints were ready to take the Cowboys to a win
The game opened slow for both teams and the Cowboys (9-3/5-3), taking an early 3-2 lead. Trinity (12-3/7-1) eventually picked up momentum and went on a 12 point run finishing the first quarter up 21-11. Thanks to a great team combo of Matt Eidler (7 points), Scooty Gilbert (6 points), and Abe Clift(6 points) in the quarter. What do you do when you're playing a strong rival? You keep pushing as the Saints did winning the second quarter 21-7 and opening the halftime lead to 42-18. The second quarter led by Gilbert (16 points in the half), 5 points Cash Niemeyer (5 points) with Eidler building stats from points, rebounds, assists, and steals.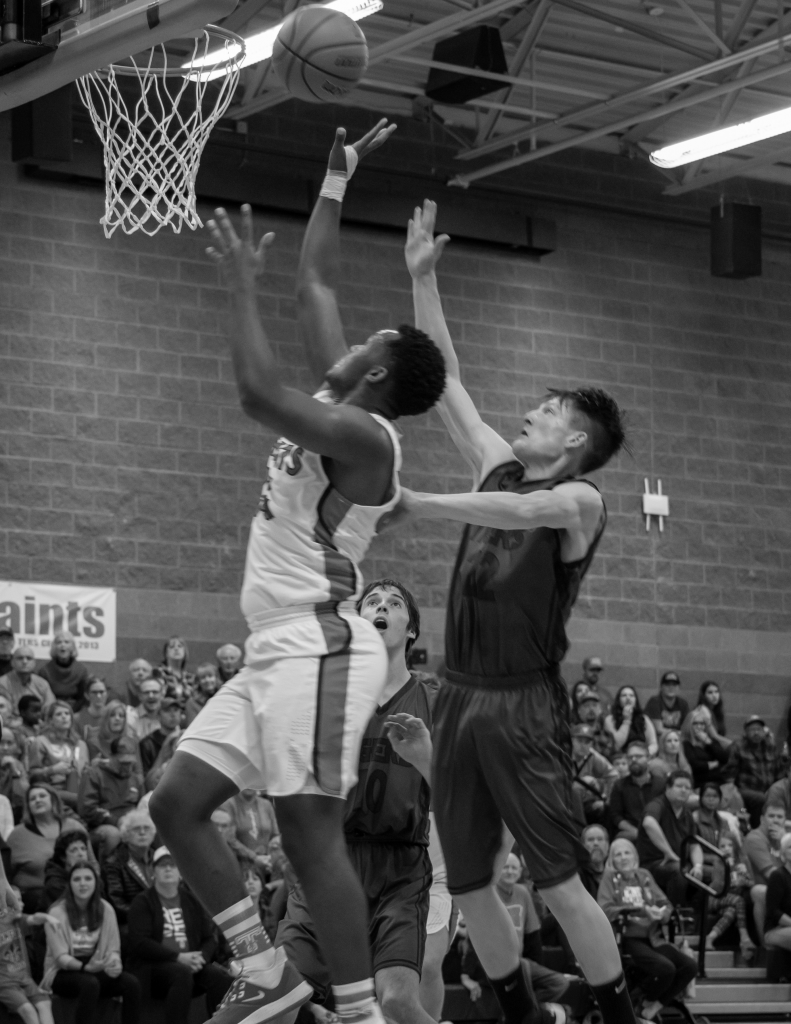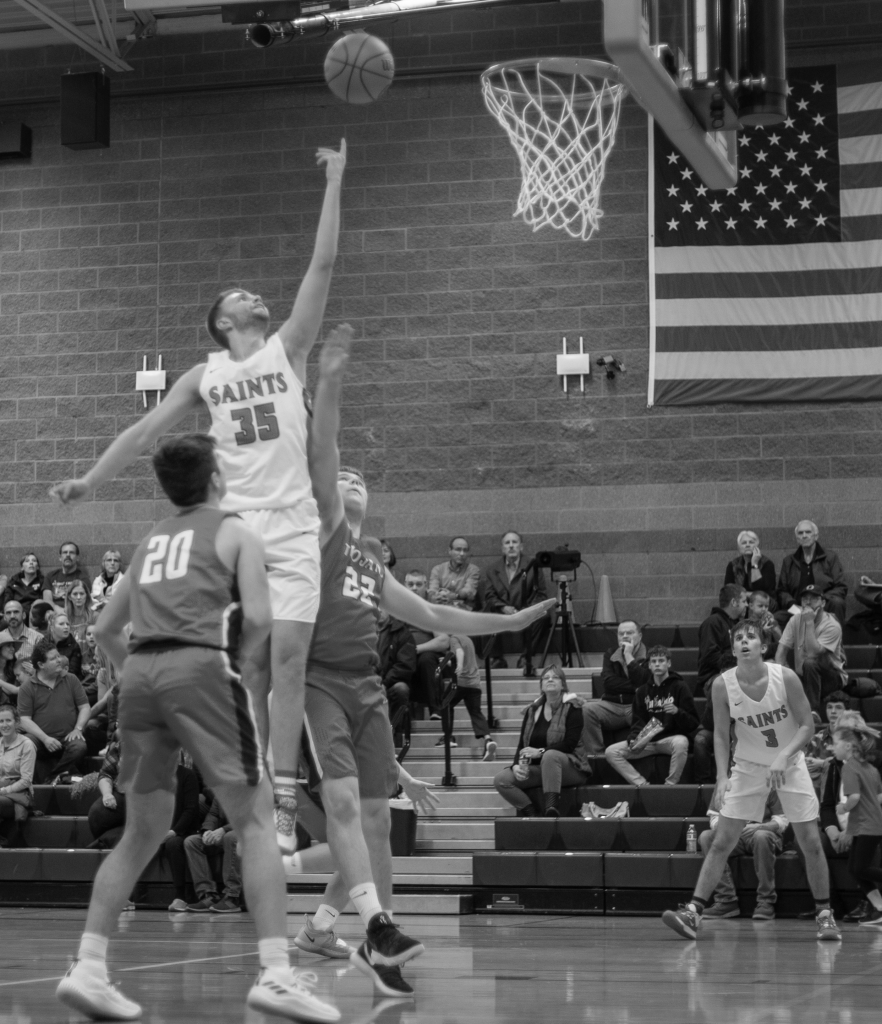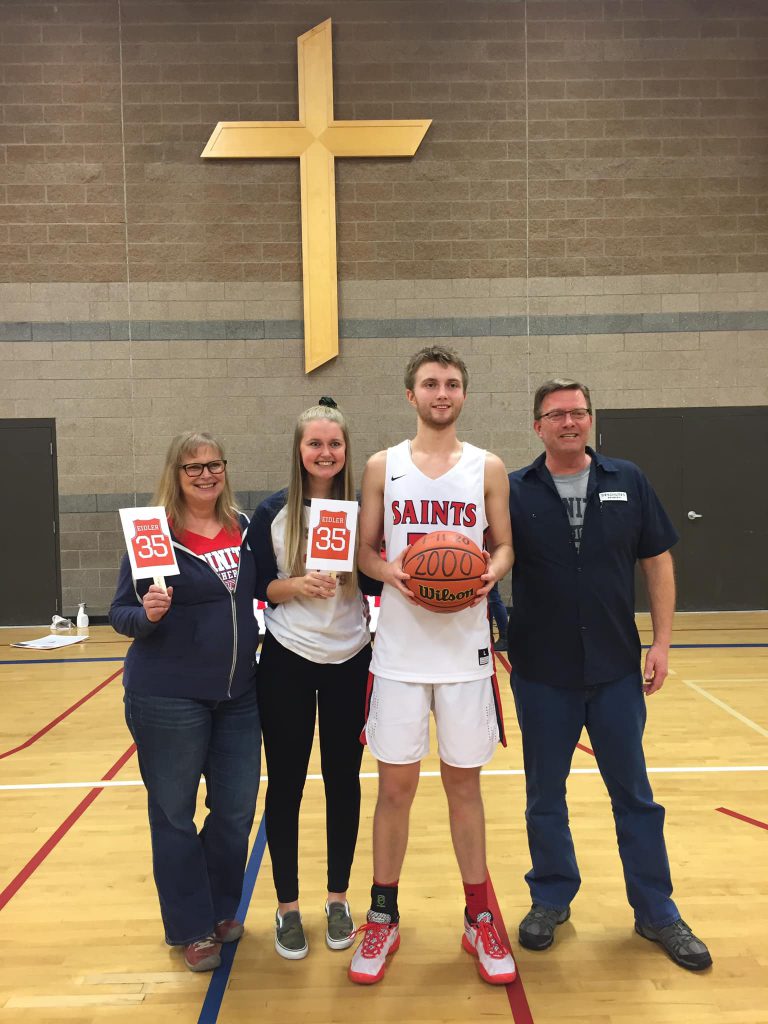 On to the 3rd quarter, where the home Saints dominated 23-6 and ultimately taking the lead to 41 points at the buzzer. Matthew Eidler led the Saints with 12 points in the 3rd, including making a layup midway in the quarter to become the 24th high school boy in Oregon history to score 2,000 or more points in his career. The 2,000 shot was followed by a timeout to celebrate the moment. With the crowd on their feet holding signs and chanting to acknowledge the support and success of this not so easy feat, Eidler has averaged 20.5 points per game over his 98 games played to date, including 24.5 points per game this season. What could make it any better? Hitting this accomplishment on your home court might. Congrats Mathew!
Trinity took advantage of many trips to the free-throw line making 20 of 27 attempts. The starters were able to sit most if not all of the 4th quarter. North Lake won the 4th quarter 16-6 to drive the final score of 71-40. Scooty Gilbert led all scorers (well only 4 Saints scored) with 27 points, including 4-8 from 3 and 9-10 from the line. He also had 3 assists and 4 steals playing yet another solid overall game. When Scooty gets hot, he is hard to stop. Matt Eidler came to play notching the 20th double-double of his career, scoring 23 points while adding 10 rebounds, 7 assists and 4 steals.
It was a hot week for Matt as he has shot 32-37 since Tuesday, lifting his overall shooting percentage to 63% for the year. Abe Clift played one of his best games of the year scoring 14 points with 5 rebounds and adding a solid presence in the paint while Cash Niemeyer had 5 rebounds and scored 7.
Next up for Trinity is Chiloquin on Thursday. Go Saints!